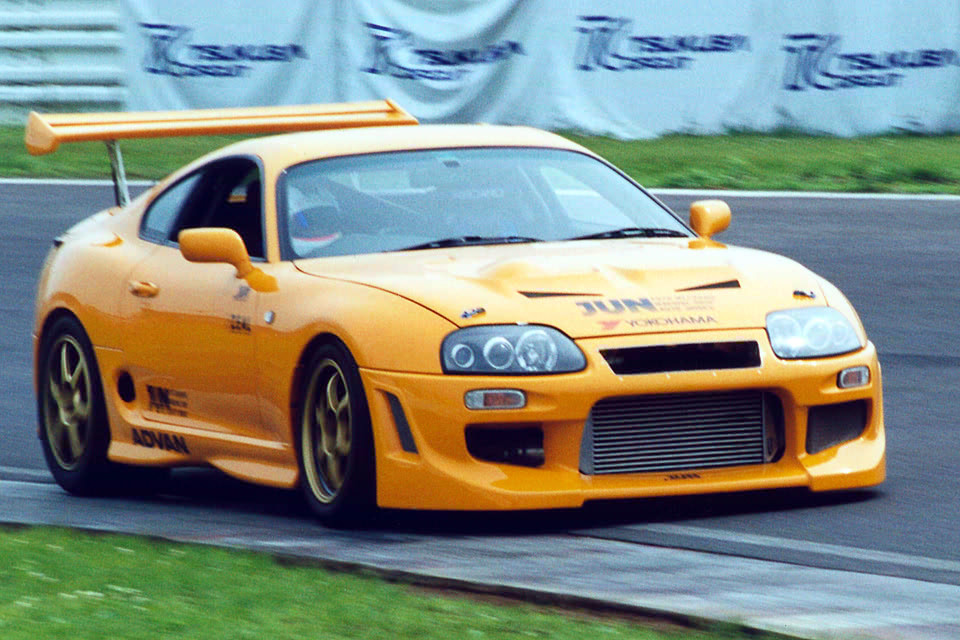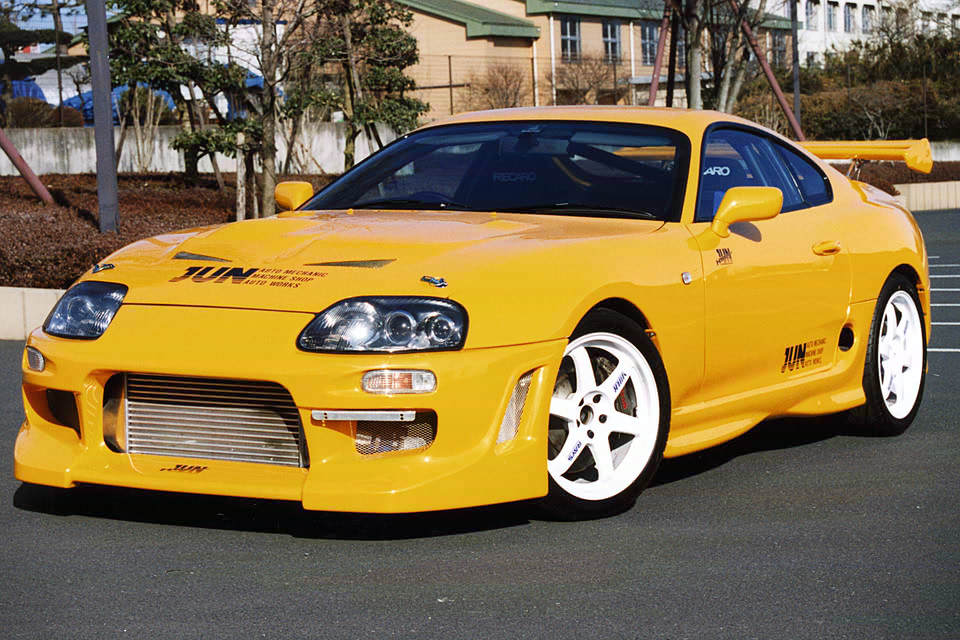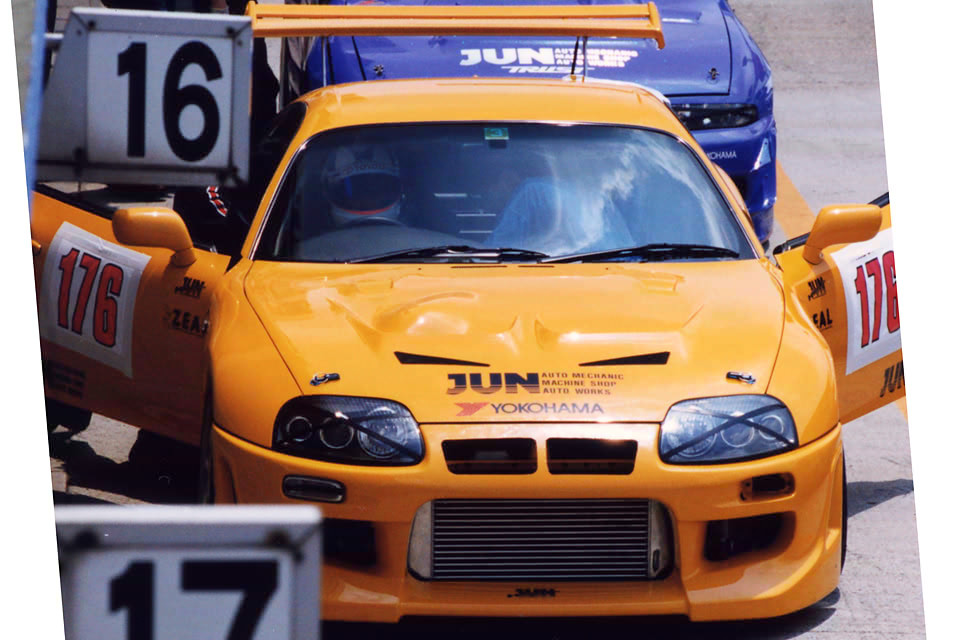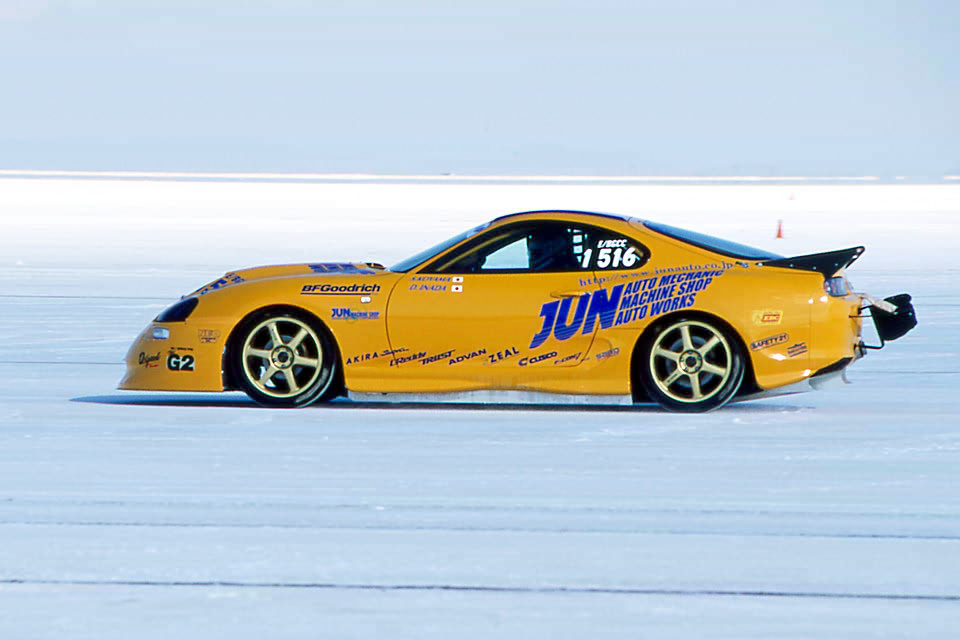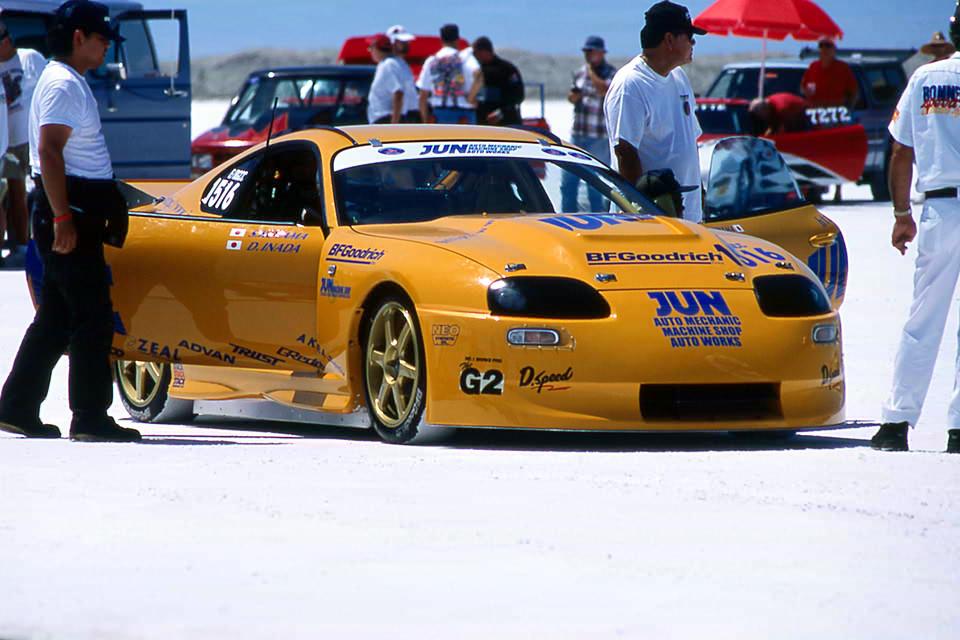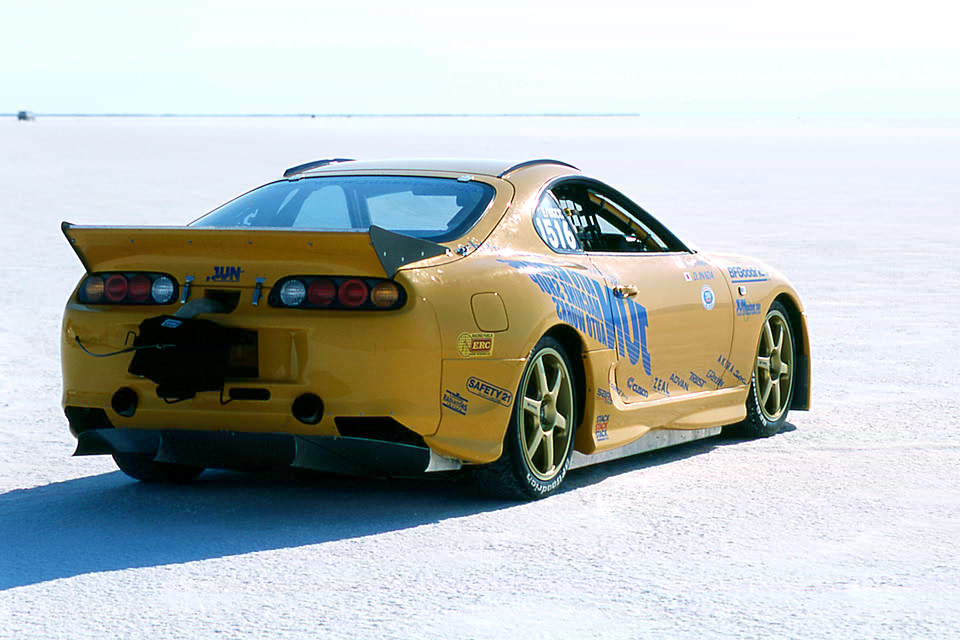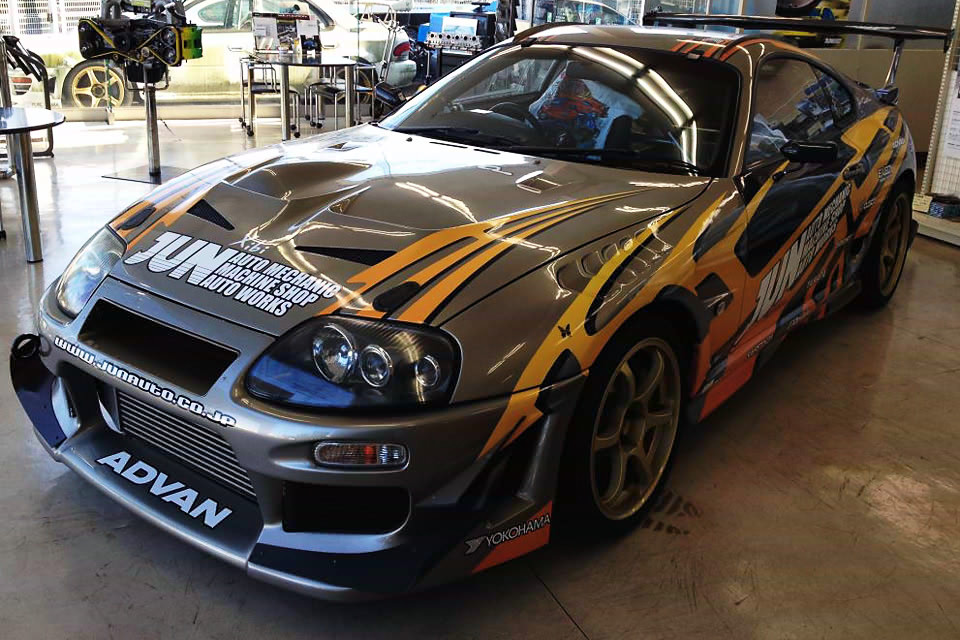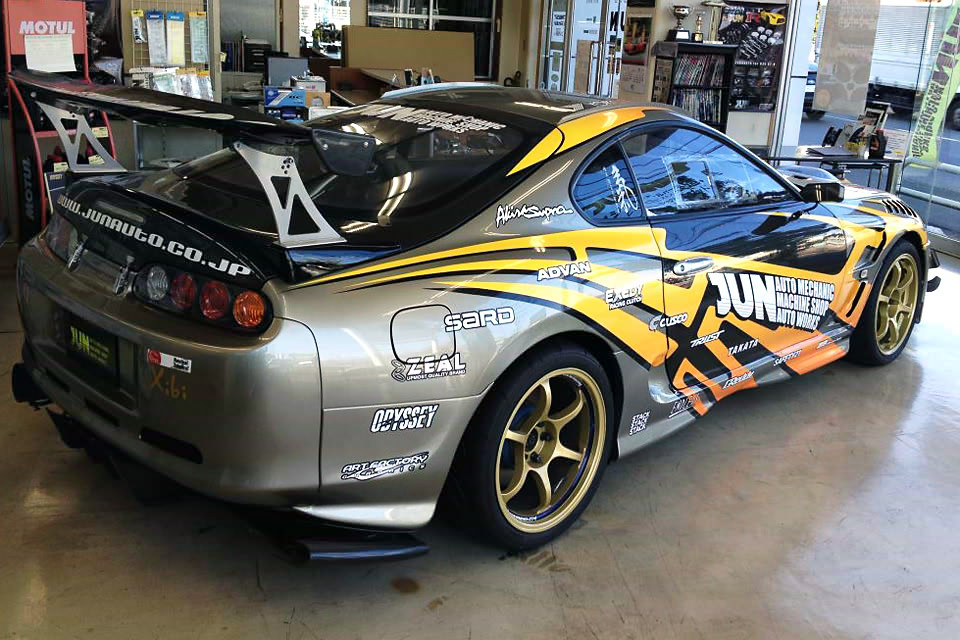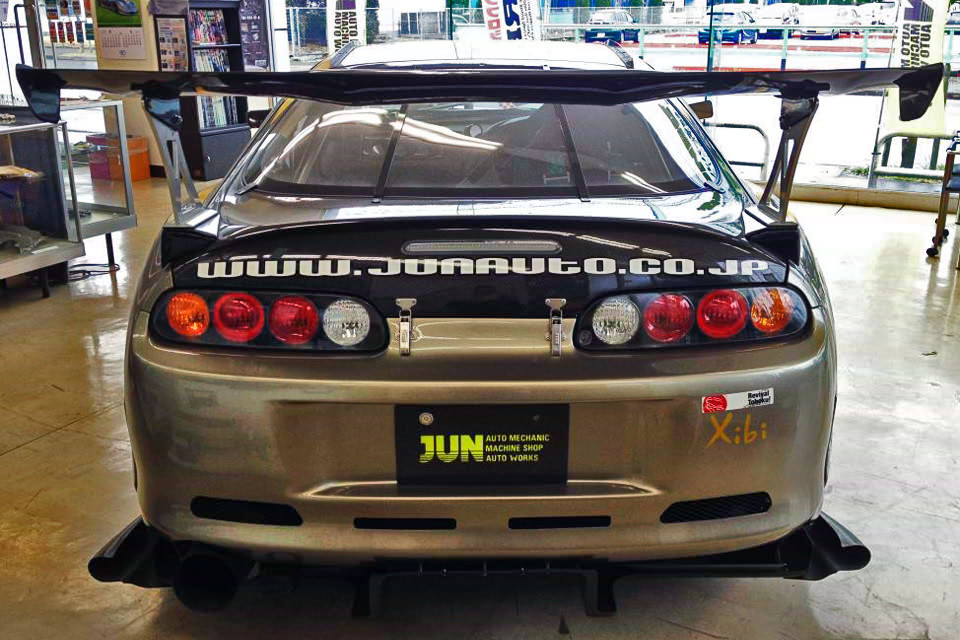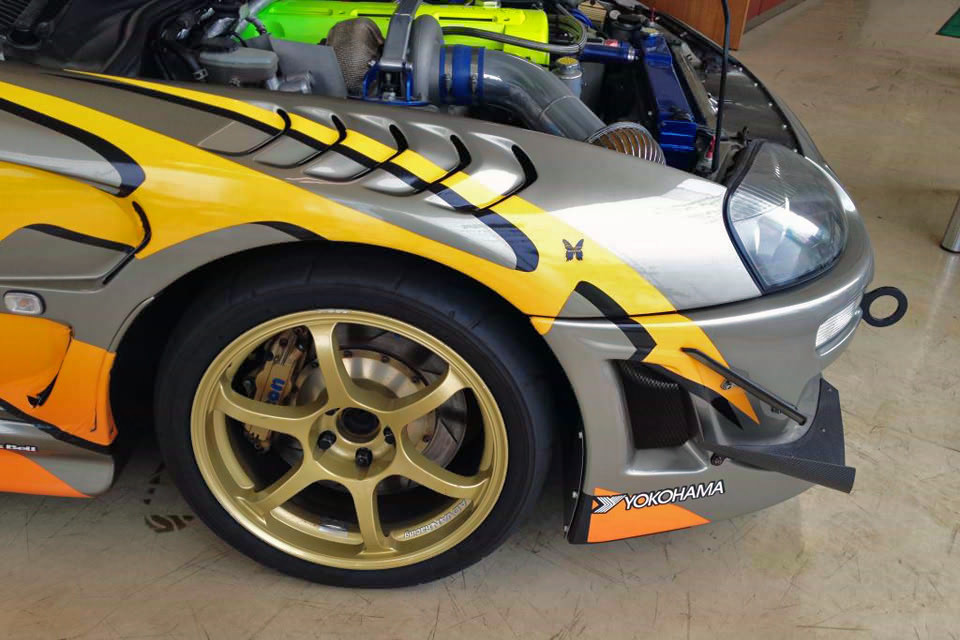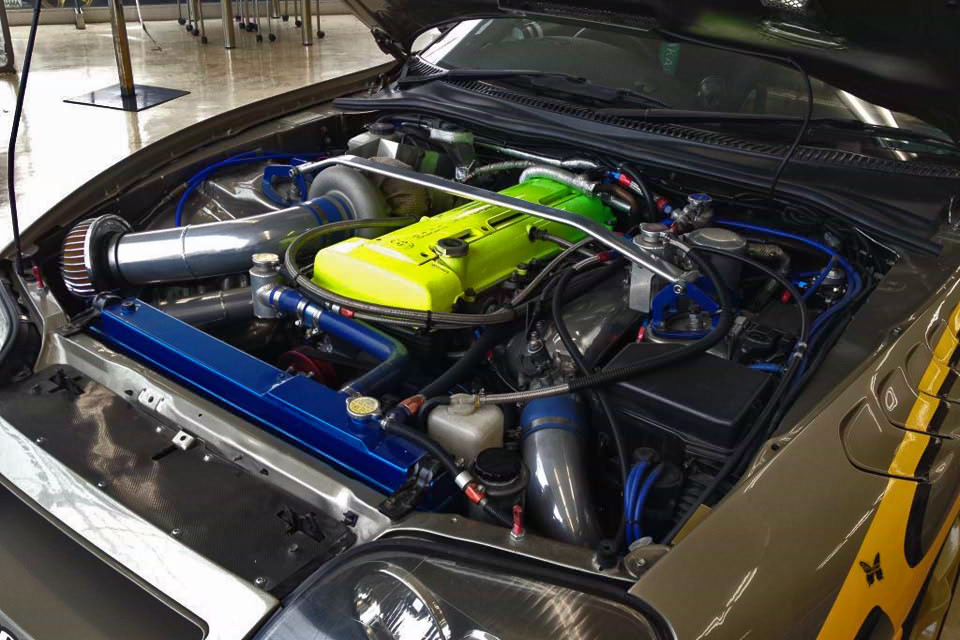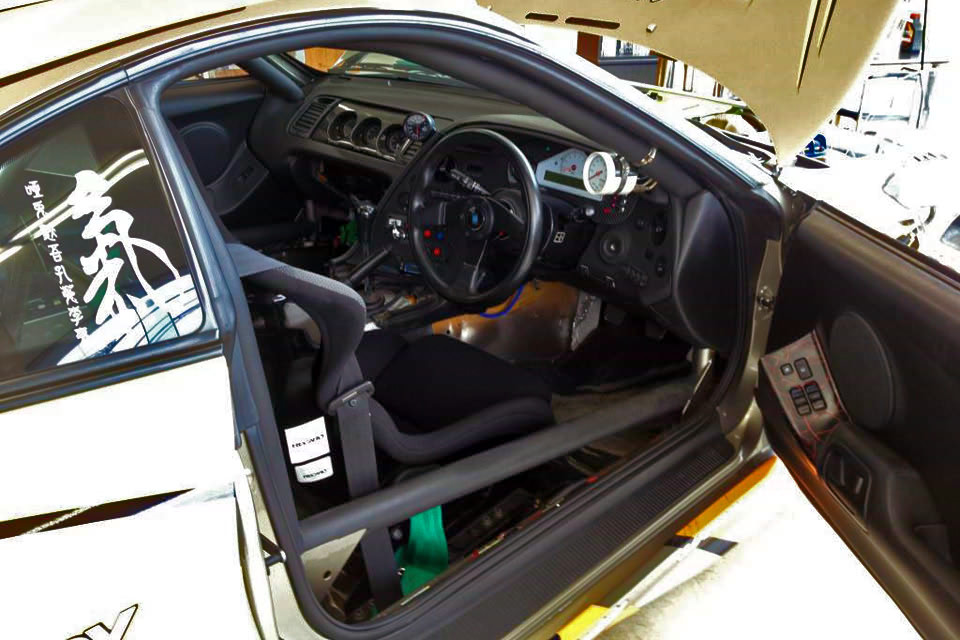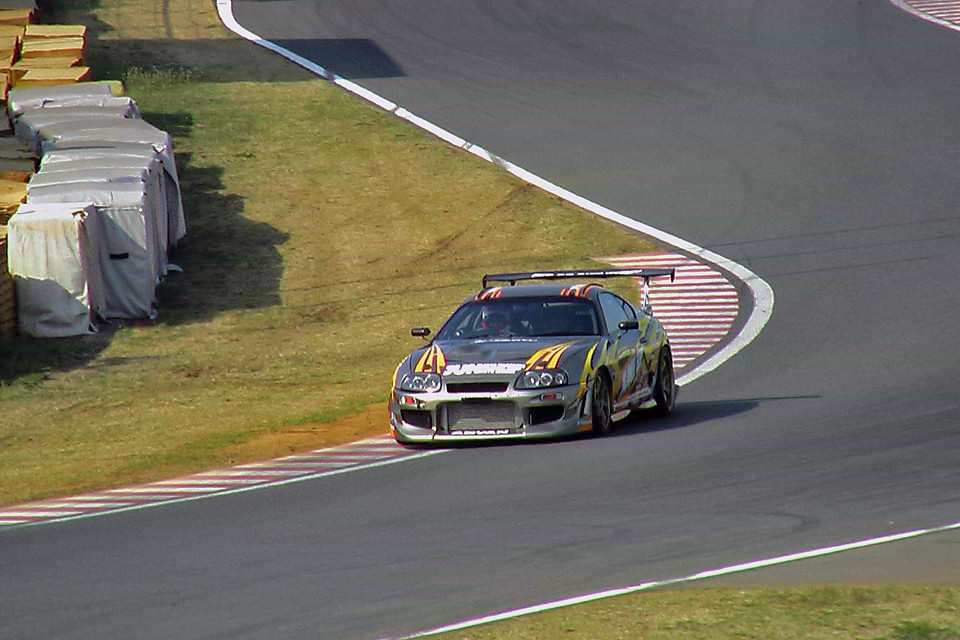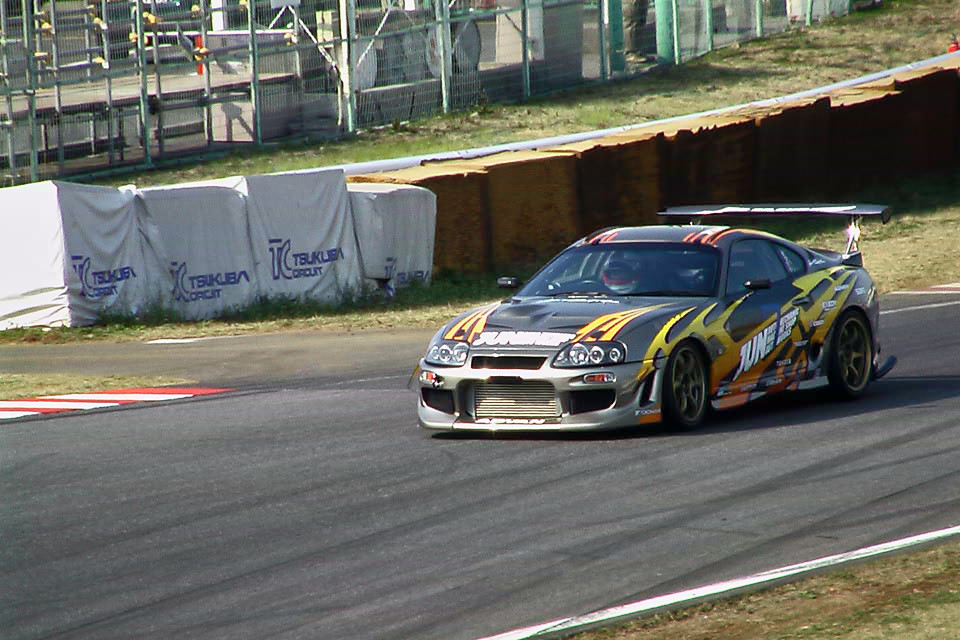 JUN AKIRA SUPRA JZA80
ENGINE : 2JZ-GTE DISPLACEMENT : 3210cc BORExSTRKE : 87x90mm MAX POWER : 800ps/6900rpm MAX TORQUE : 89kg-m/6000rpm
JPY4,000,000yen (wo/tax)
We finished sale it. (Sep. 2014)
Began to work out a design from 1998, we started to develop 2JZ engine for a challenge to the marginal capacity. A sequential mission was carried though that car was a street car, and 900 horsepower or more was attained.
We decided entry to the Bonneville Speed Trial which is held in the summer 2001, and we remodeled body for purpose over 400km/h. Our speed trial experience is four times from 1990. The JUN Akira Supra could mark 401.20km/h (249.292mph). It is top speed in Toyota vehicles (at the time).
The JZA80 was completed as the ultimate tuned complete car. Various know-how is condensed to that. We overhauled the engine with brand-new engine parts. Of course, the power and performance are unchanged.
We overhauled it in June, 2011.
Now, the car is circuit spec. We will reset the computer for Japan street legal.
The price doesn't include transportation cost from Japan.
Ask us about details.
SPECIFICATIONS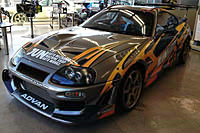 BASIC DATA
Name

JUN AKIRA SUPRA

Vehicle

TOYOTA SUPRA

Model

JZA80

Engine

2JZ-GTE

Max Power

588.4kW (800ps) / 6900rpm

Max Torque

872.8N-m (89kgf-m) / 6000rpm
ENGINE DATA
Bore x Stroke

87.0 x 90.0 (mm)

Comp. Ratio

Displacement

3210cc

Piston

JUN Forged Aluminum

Crank shaft

JUN Billet

Rod

JUN I-Beam

Camshaft

JUN IN:272(68)-10.8 / EX:272(68)-10.8

Head Gasket

TRUST 1.6mm

Others

JUN Reinforced Head bolt, JUN Inner-shim Kit
ENGINE SUPPORT
Turbine

TRUST T88H-34D 22cm²

Wastegate

TRUST TypeR x 2

Boost

1.6kg/cm²

Int-Manifold

JUN GT-Surge Tank

Throttle

VH45

Air Cleaner

TRUST

Intercooler

TRUST 4-layers

Piping

JUN

Exh-Manifold

JUN

42.7mm

Exh-Muffler

JUN Titanium

Down Pipe

JUN Stainless

Catalyzer

Not Install

Oil Cooler

TRUST 16-layers

Radiator

JUN
FUEL
Injector

SARD 1000cc

Fuel Pump

BOSCH x 2

Others

Fuel Collector Tank
Control / Electric
Engine Control

F-CON Vpro

Boost Control

TRUST Profec B Spec II

Gauges

STACK, TRUST
DRIVE TRAIN
Clutch

HKS GD Clutch PRO Triple

Transmission

Holinger Sequential 6-Speed

LSD

TRD
SUSPENSION
Dumper

ZEAL Super Function (with separate tank)

Coil

F25K / R21K

Arm and Rod

Ikeya Fomula (a suite of pillow arm) }

Reinfoced Body frame

Other reinforcement

Tire

ADVAN A050 265/35R18 M

Wheel

F:ADVAN RZ R:ADVAN RGII
BRAKE
Caliper

ALCON 4-pot

Rotor

ALCON

355mm

/ ENDLESS

Pad

ENDLESS MA22B
EXTERIOR
Aero parts

JUN Font Bumper, JUN Aero Mirror, JUN Front Under Diffuser, Front Under Cover, RE Amemiya Rear Diffuser+Vortex Generator, SARD GT Wing Fuji Mspec 1710mm, Carbon Door, Rear Gate, Acrylic Window
INTERIOR
Seat

RECARO SPG

Steering

NARDI

Seat Belt

TAKATA
SPECIAL NOTE
Weight

1520kg