NEW RELEASE: Connecting Rod for Toyota 1NZ-FE
2010/04/10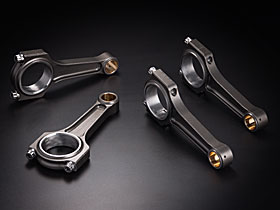 JUN Machine Shop has added the connecting rod for Toyota 1NZ-FE engine.
The JUN connecting rod is made by shaving in order to pursue lightness and strength, this form has no futility. The material of a connecting rod is used SCM440. And connecting rod bolts are made by ARP. If big end is transformed at the time of high rotation, a metal will burn. In order to prevent the phenomenon, it was made the form which distributes stress.
JUN I-BEAM CONNECTING ROD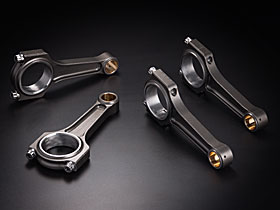 I BEAM CONNECTING ROD for 1NZ-FE
| | |
| --- | --- |
| NAME | JUN I-BEAM CONNECTING ROD for 1NZ-FE |
| VEHICLE | Toyota Vitz |
| ENGINE | 1NZ-FE |
| MATERIAL | SCM440 (Made from billet) |
| MSRP | JPY104,000 yen |
| SALES | on sale |
| NOTE | Must shave a block so that rods do not hit a block. |
RELATED LINK
---
The price is not including domestic consumption tax when it does not display particular comment.
Tax-inclusive price on display is denoted by the domestic consumption tax rates (5%) of those days which published the article.
The price does not include the installing labor fee, shipping cost, and so on.
We may change a price and the specifications without a notice for improvement.