NEWS FLASH
JUN AKIRA SUPRA breaks through the 400km/h wall!!
2001/08/21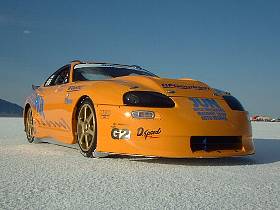 JUN AKIRA SUPRA participated in the BONNEVILLE NATIONAL SPEED TRIALS which is held at the Salt Lake City in USA. JUN AKIRA SUPRA recorded top speed and exceeded 400km/h of the first target.

Top speed was 249.292mph(401.20km/h, average speed was 240.192mph:386.55km/h). The No.1 record of the world as TOYOTA vehicle was realized.

The run was repeated favorably till the first half of a speed week(15 Wednesday) and class record was broken by JUN AKIRA SUPRA.
It had to run, always controlling an accelerator because the traction was lacking to engine power over 1000PS. We were not able to break past self-record.

Our record was broken by a rival's car at Thursday 16. The rival's car was 240Z which had V8 4.2L engine, twin turbine, cut roof, long wheel base. And it got a new record using four sets of engines, though the trouble was held.
Since we could not run at the final day, rival's record was not broken. (The result of a preliminary contest did not reach only 0.15 mph[0.2 km/h].) JUN AKIRA SUPRA recorded 400km/h and became the earliest car of TOYOTA vehicle. Moreover, it is sure that it became one big step towards a new challenge.

We will send detailed report of race to you. Don't miss it! Please also expect a detailed image by VIDEO-OPTION.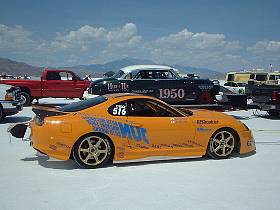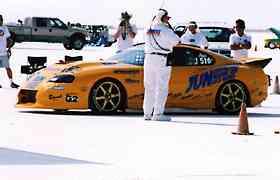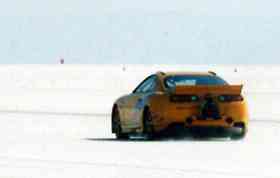 SPECIAL THANKS

---
D.speed
TRUST
YOKOHAMA RUBBER CO., LTD.
ZEAL
CUSCO
SARD
HKS
JUN USA INC.
BFGoodrich
NEO
IRUMA RADIATOR

(In random order)

The price is not including domestic consumption tax when it does not display particular comment.
Tax-inclusive price on display is denoted by the domestic consumption tax rates (5%) of those days which published the article.
The price does not include the installing labor fee, shipping cost, and so on.
We may change a price and the specifications without a notice for improvement.